My parents' 50th wedding anniversary
in a Ramsgate harbour-front hotel in 1996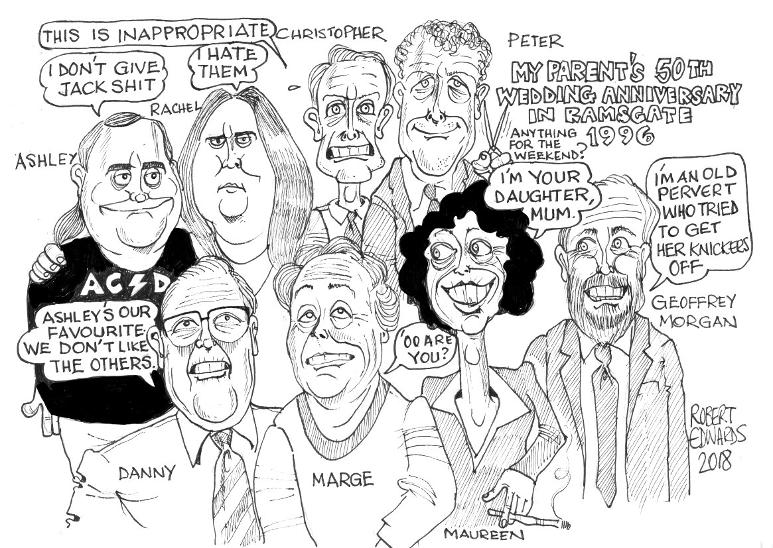 The above cartoon
Back row from left to right:
Ashley Davies (formerly Sudds), into Heavy Metal music but suffered from leukaemia in his twenties. Sadly, he died after treatment at the William Harvey Hospital in Ashford in Kent. He was my parents' favourite.
Rachel Davies (formerly Sudds) was not my parents' favourite but quite the reverse. As a consequence, she hated them with a vengeance.
Christopher Edwards but prefers the moniker Chris Edwards. One of my brothers. He has been a member of the Natural Law Party since a young man and claims to physically levitate but no one has actually witnessed this absurd claim. He was a teacher of history at a school in Halstead in Essex. Comes from a working class background, like the rest of us, but decided to affect a fake accent described as a Prince Charles voice. As a schoolboy in Conyngham Secondary School in Ramsgate, he was a chubby boy footballer with sights set on a professional career. Rejected by football scouts, he adopted vegetarianism and transcendental meditation leading to membership of the Natural Law Party.
He left his wife late in life and ran off with another member of the Natural Law Party and then levitated to London with her. His marriage was childless, probably due to allowing himself to be electrocuted in a domestic light socket.
Peter Edwards is my youngest brother and has been a barber all his life yet considers himself a man of the world. He still clips hair at Oliver's Barber Shop on Lichfield Road in Sutton Coldfield to this day. He is married with two daughters, one of whom manages a branch of Wetherspoons.
Front row from left to right:
Daniel Edwards, my father. A Welsh miner from Newbridge in Gwent who never lost any of his Welshness after living in Ramsgate since the late 1940s. As a miner, he worked at Chislet colliery then, later, at Betteshangar colliery near Deal in Kent. He was a member of Jack Dunn's Kent Communist Miners and took part in at least two big strikes before the Kent Coalfield was closed under Margaret Thatcher. Proud of being a miner up to the end.
Marjory Edwards (nee Morgan), my mother. Also Welsh from Bridgend, West Glamorgan. A powerful personality who brooked no quarter with anyone.
Maureen Davies (nee Edwards), my sister. Her choice of escorts left one thinking she has deep psychological problems but she is deserving of empathy and not judgement. Her first husband was Freddie Sudds, former friend of my brother Christopher. Those were days of hippydom, experimenting with hallucinogenic drugs, etc. When Christopher decided on a new persona with a fake upper class accent, they parted company. My sister married Fred on the rebound from an ill-fated romance with an Italian gentleman. But Fred was severely flawed and took to drink in a big way, mainly cider. He died of cirrhosis of the liver in Margate Hospital. Subsequent couplings with men proved to be an endless string of equally flawed people with differing issues. All of them insecure and unstable.
Geoffrey Morgan, my mother's brother, last known to be living in Dover. He was a scaffolder by trade and married twice, his first wife dying of cancer. He has a son, Gareth Morgan, who was keen on playing football. My parents doted over Gareth. Geoffrey remarried. While my sister was under-age, Geoffrey would try to prey on her sexually during Sunday afternoons when my grandparents visited. They would be in another room. Hence the "old pervert" reference. In today's parlance he would be a paedophile.
In other words, a normal family in Britain today.